2021 Spring Grants Awarded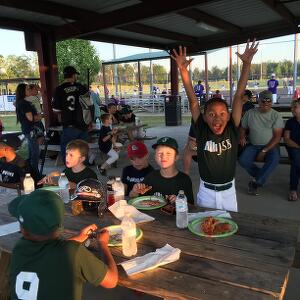 We pledge to invest 10% of our profits in Jackson Parish and the surrounding areas to create opportunities for our customers and area citizens thus becoming a preferred banking partner.
Pledge 10 grants totaling $73,494 were awarded during Spring 2021.
City of Ruston: $10,000
The city of Ruston will use these funds along with other funds to revitalize a neighborhood park in Ruston, Louisiana. The city will repurpose the area currently occupied by the closed/condemned public swimming pool and turn it into a safe and inviting skatepark. The park is within walking distance of low-income neighborhoods. This park investment will repurpose the dilapidated, overgrown space which will revitalize the area and encourage downtown growth and pride.
The Well of North Louisiana: $9,706
The Well provides financial and counseling support to foster families in North Louisiana. These funds will be used to expand services to provide quarterly events for foster families. With these funds, The Well plans to incorporate parent date night with childcare services, family movie night, and pizza night events.
Winnfield Primary School: $8,963
Winnfield Primary School will use these funds along with other funds to purchase and install inclusive handicap accessible playground equipment. The school's existing equipment is unsafe for children with delayed motor skills or sensory issues. These improvements will allow all students to share a playground experience.
Lincoln Parish Park: 5,000
With families sheltering in place for almost a year, the Lincoln Parish Park will use these funds to provide an outdoor festival promoting the park and all its outdoor treasures. The festival will feature the miles of walking trails within the park, food trucks, live entertainment, and canoes on the lake. With spring in the air and a sense of hope for days beyond the pandemic, this park festival will provide a safe family friendly outing.
Men's Community Shed: 10,000
The Men's shed is a non-profit organization affiliated with the US Men's Shed National Association. This organization provides a social space for retired men. The Men's Community Shed in Ruston will use these funds to hire additional staff to expand the hours of operation for our citizens seeking a safe and fun place to piddle in the woodworking shop, share a cup of coffee, or play a game of dominoes.
Jackson Parish School Board: $7,000
The Jackson Parish School Board has initiated a "Be Prepared" project intended to assess and mitigate risks within the school system. These funds will be used to purchase "Stop the Bleed" trauma kits for each of the campuses and provide trauma first aid training to school staff.
Jonesboro Fire District: $7,500
Jonesboro Fire District will use these funds to purchase four new sets of turnout gear for the department. Turnout gear is the Personal Protective Equipment (PPE) fire fighters use when responding to a fire. This new gear will allow the Fire Department to protect more volunteers which can enhance the department's ability to respond to a fire.
Jonesboro Fire District: $6,450
Fire fighters have long suffered from contaminants and hazardous materials exposure associated with fires. Industrial wash chemicals and standard washing machines aren't sufficient to remove hazardous material from the Personal Protective Equipment (PPE) fire fighters rely on every day. These funds will be used to purchase a specialized machine to assist in the removal of hazardous materials from the Fire Department's PPE.
Jackson Parish Recreation District: $5,500
The Jackson Parish Recreation District will use these funds along with other funds to build a gazebo by the lake at the golf course. The golf course has become a popular venue for weddings, receptions, and other events. A gazebo will help stage the space for a beautiful venue available to the public.
Jonesboro-Hodge Middle School: $3,375
With field trips cancelled and group activities limited, educators are getting creative on ways to keep students engaged and motivated. The Middle School will use these funds to stock their "Tiger Buck Store" an incentive-based store, where students can "purchase" items with "Tiger Buck Points" they earn through various incentive programs throughout the year.