2017 Spring Grants Awarded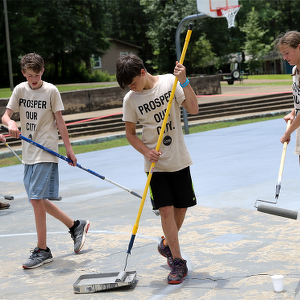 We pledge to invest 10% of our profits in Jackson Parish and the surrounding areas to create opportunities for our customers and area citizens thus becoming a preferred banking partner.
Pledge 10 seeks to promote four specific areas of focus within the bank's geographic vicinity: Education, Youth Development, Financial Literacy, and Community Enrichment. Pledge 10 is an expression of the promise we make to our customers and community. Below are the grants awarded for Spring 2017.
Jackson Parish School Board Library Initiative: Awarded $10,000
The School Board will buy books that are Accelerated Reader Certified so that students will be encouraged to read because of an increased selection of book options.
Grace Community Church Park Renovation Project: Awarded $3,944
Grace Community Church will clean up and do some much needed repairs to McDonald Recreation Park, such as replace basketball nets and goals, replace tennis court nets, repaint basketball court, and purchase heavy duty trash cans.
Louisiana Delta Community College Expansion Project: Awarded $10,000
The community college plans to put in a classroom for Industrial Maintenance. This is a field that directly ties in to our local community with the paper mill. These funds will be used to finish out construction of the facilities at the community college.
Louisiana Cancer Foundation for Research and Education Expansion Project: Awarded $2,500
Louisiana Cancer Foundation is wanting to increase their outreach in Jackson, Lincoln, Winn, and Bienville parishes. These funds will be used to advance that effort.
Jackson Parish School Board Summer Reading Program for At Risk Children: Awarded $10,000
Each year students that are falling behind and not reading at grade level are identified and these children receive targeted instructional support through a rigorous five week summer curriculum to help students achieve literary success.
Catholic Charities of North Louisiana: Awarded $2,500
Catholic Charities has an outreach arm that financially assists those living in extreme poverty. To receive help through Catholic Charities of NLA, recipients must attend a financial literacy course on how to best allocate money when faced with limited resources. These funds will be used to expand Catholic Charities of NLA's outreach in Jackson, Lincoln, and Winn parishes.
Jackson Parish 4-H Foundation: Awarded $5,000
4-H provides day camps and outreach programs in the parish schools. These funds will be used to expand services and reduce registration fees required by students attending 4-H functions.