2017 Fall Grants Awarded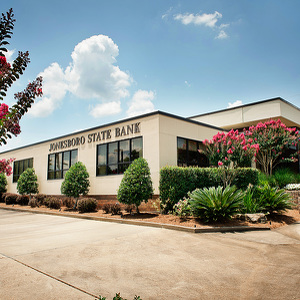 We pledge to invest 10% of our profits in Jackson Parish and the surrounding areas to create opportunities for our customers and area citizens thus becoming a preferred banking partner.
Pledge 10 seeks to promote four specific areas of focus within the bank's geographic vicinity: Education, Youth Development, Financial Literacy, and Community Enrichment. Pledge 10 is an expression of the promise we make to our customers and community. Below are the grants awarded for Fall 2017.
Bridge Community Church, Well Ministry: Award $5,590
The Bridge Community Church's Well Ministry seeks to provide resources and community support to families caring for vulnerable children thus creating a community of celebration and support for foster care and adoption. Through this grant, the Well Ministry will provide monthly dinners designed to inform and offer support for families either fostering or adopting. Families are invited to share experiences, offer emotional support, and listen to guest speakers in a safe environment. Along with the dinner forum, the Well Ministry will use funds to purchase items to assist with the emotional and physical stress that often comes with placing a child in a new home such as children's books and games designed to help them understand their experiences.
Jackson Parish Recreation Department, Volleyball & Tennis Court Project: Awarded $9,000
The Jackson Parish Recreation Department is providing first class recreational facilities to the citizens of Jackson Parish, and with this grant, those facilities can be expanded. The Recreation Department will construct two full size sand volleyball courts at the sports complex located on Highway 4. In addition, the Recreation Department will install a backboard on the tennis courts at the Jackson Parish golf course.
Life Choices of North Central Louisiana, Project Grow: Awarded $10,000
Life Choices is an organization that exists to bring compassionate help and hope to women and men who are unprepared for pregnancy; to present sexual abstinence as a positive lifestyle for singles; to build up the family unit; and to provide an opportunity for healing and restoration to those who have been hurt by abortion. These funds will be used to stock much needed supplies such as diapers, food, and toiletries. The funds will also be used to provide a cooking course as well as Work Life. The 6-week cooking class will better prepare men and women faced with the stressful challenge of nurturing a family. Additionally, Work Life courses assist Life Choices support people who are struggling to find, keep, or flourish at work.
Louisiana Tech University College of Education, Call me MISTER: Awarded $10,000
Call me MISTER is a scholarship and mentoring program designed to increase the pool of available teachers from a broader, more diverse background particularly among the state's elementary and middle schools. Through this grant, Louisiana Tech's College of Education will provide additional scholarship funding, mentoring opportunities and assistance with job placement for qualified black males seeking a career in education. Call me MISTER partners with local organizations, such as the Boys and Girls Club of Jonesboro, to allow these young men to assist with tutoring and mentoring children while they pursue their degrees at Louisiana Tech University.
LSU AgCenter, School Garden Project: Awarded $2,500
LSU AgCenter is partnering with Jonesboro Hodge Elementary to construct raised bed gardens and purchase garden equipment. The goal of the school garden is to promote creativity, awareness, and the health benefits of growing fresh vegetables. Students are given the opportunity to plant and grow various vegetables and fruits. By allowing students to plant their own produce in a garden, children are able to learn about food, health, and nature in a fun and interactive way.
Pinkie Wilkerson Center, Sumer Reading Program: Awarded $7,500
The Pinkie C. Wilkerson Life Development Center was founded and incorporated for the purpose of providing public service activities to the citizens of Grambling, Louisiana and its surrounding areas. The Center's goals are to provide activities that are geared toward promoting human welfare through education, social and physical development, political awareness and economic empowerment. Through this grant, the four-week summer reading program will be expanded and enhanced, and additional supplies will be provided for arts and crafts.
Quitman FFA, Drone Training Program: Awarded $4,400
Quitman's FFA program will have the opportunity to purchase 24 unmanned aerial vehicles (drones) through Parrott Education. Students will learn the benefits and uses of drones in agricultural production. Students will learn the engineering and technical aspects of drone creation, as well as develop problem solving skills while using the latest agricultural technologies available.
Ruston Community Theatre, Youth Summer Musical: Awarded $5,450
Ruston Community Theatre's Youth Summer Musical is quickly becoming one of the most sought after art productions in North Central Louisiana. The youth production gives approximately 60 children an opportunity to explore live theatre by performing in an exclusively youth cast musical. The live production is further celebrated by coordinating a youth show for the Boys and Girls Clubs from Lincoln and Jackson parishes. The theatre has created buzz with its productions of Beauty and the Beast and The Lion King. With the enormous success of the last two years, next summer's highly anticipated production of the Little Mermaid is sure to impress. A grant was awarded to sponsor and cover costume expenses for next summer's production of the Little Mermaid.