Our Impact - Stories
Let's See What's Growing!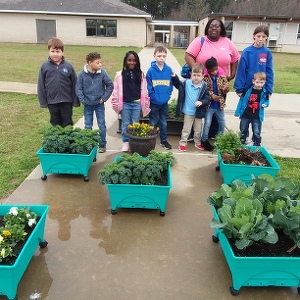 Jonesboro-Hodge Elementary special education teacher, Brenda Simmons, recently wrote a letter detailing how she is taking Pledge 10 funds and investing in the development of her students. See her letter below:
I am a Special education teacher at Jonesboro-Hodge Elementary school and I teach a group of students who are multi-handicapped. Thanks to the donation made by Jonesboro State Bank we were able to purchase the needed materials to create a year round sensory garden. This is very beneficial to all my students since they all have issues such as visual impairment, sensory needs, and orthopedic deficits. With our garden they can use all of their senses to learn about the different plants, including textures and taste. We even got to eat pansy and viola petals! Thanks Jonesboro State Bank for your generosity.
Brenda Simmons
About Us
Jonesboro State Bank strives to invest in Jackson Parish and the surrounding areas to create opportunities for our customers and area citizens.
Learn More

Feedback
We pledge to be mindful of each customer's individual needs and goals, and we want to make sure we are living up to that pledge. Please take the time to provide us feedback on your banking experience so we can better assist all of our customers.
Get in Touch

Security is Our
#1 Responsibility to
Our Customers
Help protect your investments better by understanding
how to prevent yourself from these threats.
Security Center
Please be advised that you are leaving Jonesboro State Bank's website.
Jonesboro State Bank does not endorse or control the content of third party websites. The security and privacy policy on these sites may be different from ours.