Let's See What's Growing!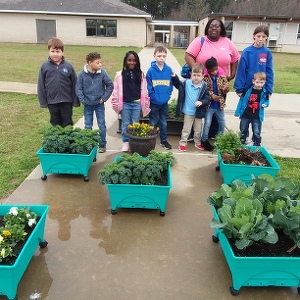 Jonesboro-Hodge Elementary special education teacher, Brenda Simmons, recently wrote a letter detailing how she is taking Pledge 10 funds and investing in the development of her students. See her letter below:
I am a Special education teacher at Jonesboro-Hodge Elementary school and I teach a group of students who are multi-handicapped. Thanks to the donation made by Jonesboro State Bank we were able to purchase the needed materials to create a year round sensory garden. This is very beneficial to all my students since they all have issues such as visual impairment, sensory needs, and orthopedic deficits. With our garden they can use all of their senses to learn about the different plants, including textures and taste. We even got to eat pansy and viola petals! Thanks Jonesboro State Bank for your generosity.
Brenda Simmons