$60,000 for Inclusive Equipment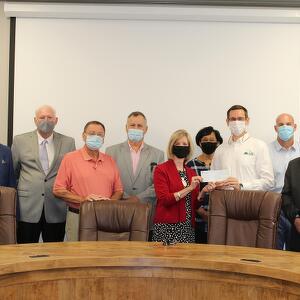 Special Education teacher, Brenda Simmons, recognized a need in our community, and Jonesboro State Bank stepped up to meet the need. Simmons found the parish needed more access to handicap accessible playground equipment at our three elementary schools and the recreation department's main park. By partnering with local businesses and organizations, she raised enough funds to install handicap accessible equipment at Quitman's K-12, Weston's K-12, Jonesboro-Hodge Elementary and the Jackson Parish Recreation Department's main park.

These four facilities were able to purchase and install the equipment with the help of Jonesboro State Bank's $45,000 donation to the School Board and a $15,000 donation to the Jackson Parish Recreation Department.

Jonesboro State Bank President, Thurston Allen stated, "I would like to thank Ms. Brenda for her vision, the School Board and the Recreation Department for acknowledging the need, and the other community leaders that helped make this possible. Together we can make a difference in Jackson Parish."