2020 Fall Grants Awarded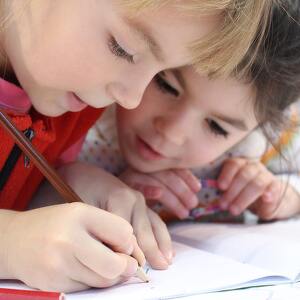 We pledge to invest 10% of our profits in Jackson Parish and the surrounding areas to create opportunities for our customers and area citizens thus becoming a preferred banking partner.
Pledge 10 seeks to promote four specific areas of focus within the bank's geographic vicinity: Education, Youth Development, Financial Literacy, and Community Enrichment. Pledge 10 is an expression of the promise we make to our customers and community. Below are the grants awarded for Fall 2020.
Junior Auxiliary of Ruston: $5,000
JA of Ruston has four projects which focus on literacy/family literacy: Visit with Saint Nick, Visit with Peter Cottontail, School Enrichment, and Christmas Clearinghouse. Through these four programs, JA of Ruston provides reading opportunities and provides book distribution projects in our local elementary schools. JA of Ruston will use these funds to purchase additional books to expand their distribution by approximately 3,700 age appropriate books to elementary students in our community.
Quitman High School: $6,500
QHS will use these funds to purchase playground equipment. Without physical education classes, the playground is the only form of physical activity available to some students. These enhancements will help make the kindergarten playground safer and more enjoyable for the young students
Weston High School FFA Chapter: $10,000
The Weston FFA Chapter helps students develop career skills in public speaking, welding, carpentry, electricity, forestry, and horticulture. The FFA Chapter will use these funds to purchase a plasma CNC machine to allow the students additional hands on experience as they develop technical skills.
Winnfield High School: $4,924
Winnfield High School's dual enrollment program allows high school students to take college courses through their dual enrollment partner, Northwestern Stat University. NSU discounts the tuition, however the textbooks are very expensive. Since the students typically take the same courses, these funds will be used to buy textbooks for the most widely used courses.
Quitman High School: $9,000
QHS will use these funds to supplement their gym improvement project. QHS is renovating their old gym to put the facility back in working condition for elementary physical education and provide a dedicated location for the cheer program.
Boy Scout Troop 45: $3,168
The Rock Island Greenway is a linear park project that will eventually run almost 6 miles across Ruston. This park hopes to encourage recreation and active transportation. To facilitate bicycle transportation, Troop 45 will use these funds to install two bike repair stations along the Greenway.
Kiwanis Club of Winnfield: $6,500
The Winnfield Chapter of the Kiwanis Club helps build a stronger community by hosting a Toys for Tots program each Christmas and administering a Terrific Kids Program. The Toys for Tots program provides toys for children, and the Terrific Kids Program rewards high performing students identified by their teachers with small gifts. Winnfield has experienced severe damage from Hurricane Laura and Covid-19. Both have impacted the Kiwanis Club's ability to raise money. These funds will be used to expand those two programs.
Celebrate Life: $6,500
Celebrate Life provides mentoring programs for students in grades 3-12 through the Teach One to Lead One program. The programs focus on nurturing and instilling universal principles: respect, integrity, self-control, courage, humility, excellence, compassion, enthusiasm, teamwork, and honor. These funds will be used to purchase curriculum materials to support Teach One to Lead One's outreach efforts in Lincoln Parish schools.
Freedom 13 Ministries: $6,500
Freedom13 Ministries a promotes sexual integrity and serves the mental and physical needs of victims of sexual violence. Through the "Purchased NELA" program, Freedom13 Ministries supports victims of sex trafficking. These funds will be used to fund needs at a safe house, transportation expenses, and supplies for an outreach workshop.
Teen Challenge: $6,500
Teen Challenge provides residential care to men and women struggling with drug and alcohol addiction and other life controlling issues. These funds will be used to support the Winn Parish rehabilitation center which houses up to 82 students and 25 staff.