Our Impact - Stories
Coats for Kids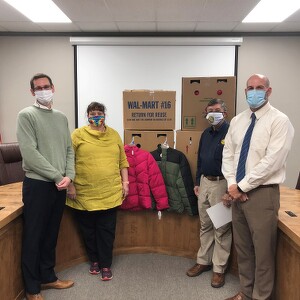 The Ruston Rotary Club has teamed up with Jonesboro State Bank to fund 200 winter coats to elementary students in Jackson Parish and Lincoln Parish. The coats were split evenly between the two parishes. Patricia Willis and Allen Tuten representing the Ruston Rotary Club delivered the coats to Superintendent David Claxton. Jonesboro State Bank wants to thank Ruston Rotary Club for their initiative as well as the Jackson Parish School Board for their assistance distributing the coats.
Together we can make a difference, and this is just one more example of how we can work together for positive change in our community.
Picture Caption Left to Right:
Thurston Allen, President of Jonesboro State Bank
Patricia Willis, Past President of Ruston Rotary Club
Allen Tuten, Current President of Ruston Rotary Club
David Claxton, Superintendent of Jackson Parish Schools
About Us
Jonesboro State Bank strives to invest in Jackson Parish and the surrounding areas to create opportunities for our customers and area citizens.
Learn More

Feedback
We pledge to be mindful of each customer's individual needs and goals, and we want to make sure we are living up to that pledge. Please take the time to provide us feedback on your banking experience so we can better assist all of our customers.
Get in Touch

Security is Our
#1 Responsibility to
Our Customers
Help protect your investments better by understanding
how to prevent yourself from these threats.
Security Center
Please be advised that you are leaving Jonesboro State Bank's website.
Jonesboro State Bank does not endorse or control the content of third party websites. The security and privacy policy on these sites may be different from ours.