Addressing Food Insecurity During Pandemic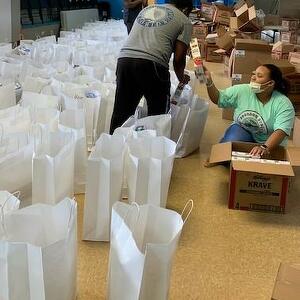 March 13, 2020 was a day that left more questions than answers. That was the day Jackson Parish schools were closed due to the state-wide Stay-at-Home Order issued in response to the pandemic. Closing the schools certainly impacted our students' lives, and the most immediate concern troubling the bank's management team was the food insecurity caused by the unanticipated and unprecedented Stay-at-Home Order.
Management's first question was, "What about lunches?"
We immediately started contacting local community leaders and authorities to formulate a plan to address the need. Pine Belt Multi-Purpose Community Action Agency acknowledged the need and was willing to act as a conduit to get meals prepared and distributed in the community. Pine Belt was instrumental in getting the program off the ground.
The primary purpose of the program was to ensure the provision of nutritious meals for children during the state-mandated Stay-at-Home order. Services were initially projected for a two-week period of March 19 through March 27 with students returning to school on March 30. Meal packages consisting of a daily breakfast and lunch were scheduled to be prepared at the Union-Bee Head Start kitchen daily on Monday through Friday. Teams of (30) workers were assigned to distribute meals for pickup at strategic locations throughout the parish.
On Sunday March 22nd, the Governor issued another Stay-at-Home Order. As a result of this Order, the program arrangements were changed to prepare meals for a 5-day supply per child for each distribution. Dates were established based upon the availability of pre-packaged food items and vendor delivery schedules. Food supplies were limited during this period due to massive company layoffs. The feeding services were extended until May 30, 2020 once it was determined school would remain closed for the remainder of the school term.
"In total, Jonesboro State Bank provided 21,900 meals to our children over the 10-week period, and I can't think of a better way to invest Pledge 10 dollars than that." – Thurston Allen