2021 Fall Grants Awarded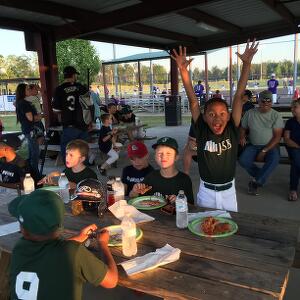 We are happy to report that commendable grant proposals were awarded funding from all four of our primary service area parishes! JSB pledges to invest 10% of our profits in Jackson Parish and the surrounding areas to create opportunities for our customers and area citizens thus becoming a preferred banking partner.
Pledge 10 grants totaling $98,982 were awarded during the fall 2021 grant cycle to the following organizations and agencies:
LSU Ag Center: $5,022
Support the school garden, nutrition program, and health events at Jonesboro-Hodge Elementary School
Dodson High School: $9,000
Renovate and update the only school greenhouse in Winn Parish to enhance horticulture/plant science program.
Weston High School: $4,500
Upgrade seating and provide flexible learning space in a 2nd grade classroom.
Quitman High School: $3,600
Purchase a sound and lighting system for old gym that is also usable in new gym and other areas of the school.
Ringgold United Christian Ministries: $9,000
Purchase commercial refrigerator and freezer for community food pantry which will allow for fresh frozen food and items of higher nutritional quality.
Jackson Parish Watershed Commission: $7,830
Provide funding to construct a roof for new handicap-accessible pier at the Caney Creek Reservoir Spillway.
Weston High School: $9,000
Purchase zero turn lawnmower and equipment shed to house it to maintain ball fields.
Grambling State University Baseball: $9,000
Enclose batting cages, renovate dugouts and replace stadium lights with LED lights.
Quitman Fire Protection District 1: $6,875
Purchase a rescue/fire surveillance drone complete with a thermal imaging camera, spotlight and speakers.
Ward 7 Fire District Bienville Parish: $9,000
Assist with the purchase of a LUCAS automated chest compression device to assist rural first responders.
Winn Chamber Commerce & Tourism: $9,000
Support provision of a flagpole, monument, landscaping, and lighting for the revitalization of a veterans' memorial park in Winnfield.
Ouachita Regional Veterans Assn: $7,500
Facilitate the construction of a community center for the Project 4 Hope Tiny House Village Transitional Program for homeless Veterans and their families.
Junior Auxiliary of Ruston: $3,280
Support purchase of shoes and socks for all Lincoln Head Start students in Spring 2022.
Ross Lynn Charitable Foundation: $6,375
Aid with purchase of reusable equipment for a five-week digital arts workshop for students at Lincoln Preparatory School in Grambling.